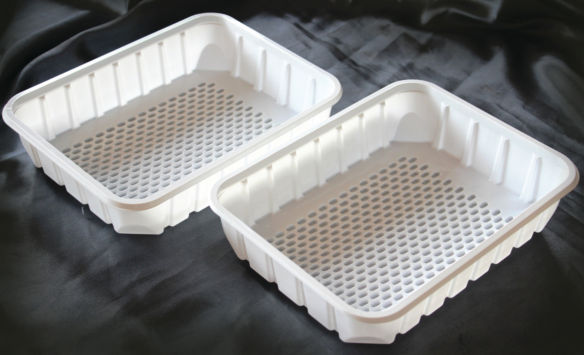 Allows the drainage and absorption of liquids from the meat, in a controlled atmosphere.
The fluids are secreted from the meat through the pierced sheet into the base of the tray, that is built as a honeycomb, and are kept there by the capillary force of the water.
The liquid absorption allows preserving the freshness of the meat and reduces significantly the fear of bacterial reproduction, fermentation and the fading of the meat.
Because there is no use of dehumidifiers being made, there is no excessive loss of fluids, but only the absorption of secreted fluids.
A package with massive reinforcement ribs – to protect the product inside.
Without "styrene" that is found in polystyrene.
With a "cut under" allowing for a fast and easy separation.
Absorbability: 25 grams.
** The weights vary within a deviation of approximately 7%.
Product name
Serial no.
Sizes
Units per box
Boxes in platform
Volume in CC
Comment
White Legs Absorbs "Extra Strength"
177
50*180*230
300
18
1250
Weight **: 24g
Black Legs Absorbs "Extra Strength"
177-1
50*180*230
300
18
1250
Weight **: 24g
Complementary Products That might interest you
Get a quote for Chicken Legs - Absorbant