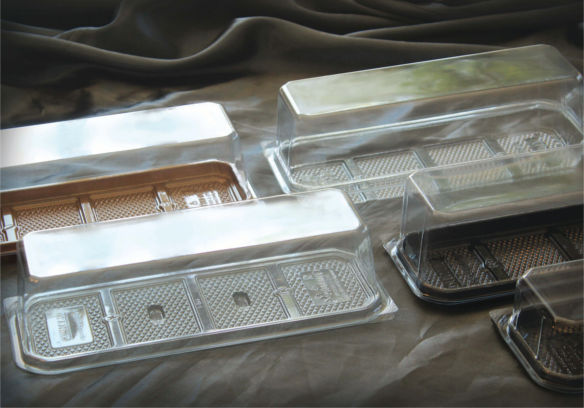 The package has a smooth and transparent lid – for an attractive and clear display.
A thick and strong lid – to prevent squashing while arranging in high stories.
Reinforcement ribs at the bottom – to create a solid tray for serving the cake (preventing the cake from bending and falling).
Black bottom – to emphasize the cake and give a chic look.
Fast and easy closing – for a more convenient and faster packing.
 "Smart closing"* – the closing allows for the tightening of the lid when the client picks up the product from its top part (to prevent the bottom from suddenly opening and the cake from falling out).
Premium quality/ A registered industrial design and trademark
Product name
Serial no.
Sizes
Units per box
Boxes in platform
Volume in CC
Comment
Olympus High cover
611
70*110*285
320
18
1200
Made with a tough and high standard material
Olympus Low cover
447
50*110*285
320
18
1000
Made with a tough and high standard material
Olympus cover high antipog
611
70*110*285
320
18
1200
מיוצprevents condensation on the lid
Olympus Bottom Mini Black
445-5
10*110*285
320
18
in the shape of a stage lifting the cake, approximately 7mm
Olympus Bottom Low Black
445
14*110*285
320
18
-
Olympus Bottom Midum Black
448
20*110*285
320
18
-
Olympus Bottom High Black
444
25*110*285
320
18
-
Olympus Transparent Low Stage
488
15*117*278
320
18
in a unique structure of a stage lifting the cake to 1.5cm
Transparent Olympus Bottom Mini
445-1
10*110*285
320
18
in the shape of a stage lifting the cake, approximately 7mm
Low Transparent Olympus Bottom
443
14*110*285
320
18
-
High Transparent Olympus Bottom
442
25*110*285
320
18
-
Olympus Bottom Mini 24 Carat
445-3
10*110*285
320
18
in a special and bright gold shade
Complementary Products That might interest you