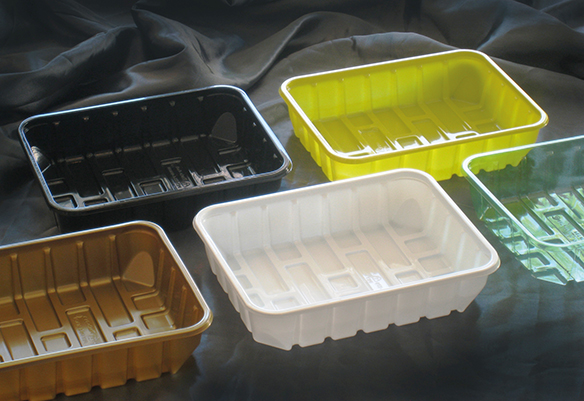 A troy fitted for packing meat, different frozen goods, fish, cookies and more.
Has massive reinforcement ribs to protect the product.
Exists in different levels of thickness and colors – see table.
D – A thinner and cheaper material format.
** The weight varies in a deviation of roughly 7%.
Product name
Serial no.
Sizes
Units per box
Boxes in platform
Volume in CC
Comment
Thighs 50D White
170-3
50*180*230
700
18
1250
Weight **: 16.5g
Thighs 50 White
170
50*180*230
700
18
1250
Weight **: 19.5g
Thighs 50 Reinforced white
170-6
50*180*230
700
18
1250
Weight **: 21.5g
Thighs 50 transparent
172
50*180*230
700
18
1250
Weight **: 19.5g
Thighs 40 White
170-1
40*180*230
700
18
1000
Weight **: 19.5g
Thighs 40 Reinforced extra
170-7
40*180*230
700
18
1000
Weight **: 25g
Thighs 50 Reinforced black
178
50*180*230
700
18
1250
Weight **: 21.5g
Thighs 50 black
170-4
50*180*230
700
18
1250
Weight **: 19.5g
Thighs 50 Reinforced red
174-1
50*180*230
700
18
1250
Weight **: 21.5g
Thighs 50D greenish
173
50*180*230
700
18
1250
Weight **: 16.5g
Thighs 50 Reinforced yellow
174
50*180*230
700
18
1250
Weight **: 21.5g
Thighs 50 Reinforced blue
173
50*180*230
700
18
1250
Weight **: 21.5g
Thighs 1kg White
102-1
78*180*230
700
18
2300
Depth: 80 mm
Complementary Products That might interest you
Get a quote for your legs