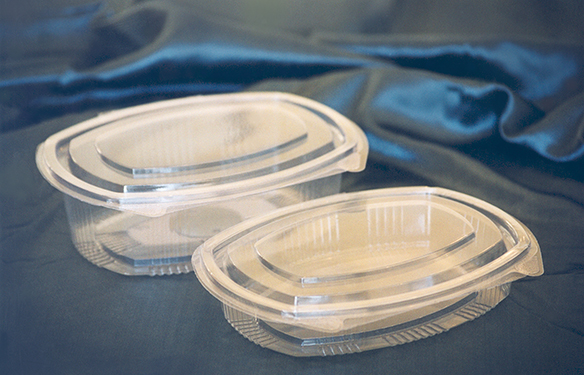 Hermetic packaging*, with an attached lid, for a wide variety of uses, mainly for cakes and salad.
Closing with snaps at its corners – allowing for closing confirmation.
One of Plasto-Vack's most favorite packages, with a unique and special elliptic design.
The bump on the lid allows for a solid arrangement in high stories and is secured from falling over.
PK – cheap material, with a high recycling percentage, approved for coming into contact with food.
The original "Bar" package by Plasto-Vack
Product name
Serial no.
Sizes
Units per box
Boxes in platform
Volume in CC
Comment
Bar 40 PVC (Strong)
53
40*170*225
240
15
750
Premium quality - PVC material
Bar 50 PVC (Strong)
50
50*170*225
240
15
1000
Premium quality - PVC material
Bar 65 PVC (Strong)
51
65*170*225
240
15
1400
Premium quality - PVC material
Bar 80 PVC (Strong)
52
80*170*225
240
15
1800
Premium quality - PVC material
Bar 40 PET
53-5
40*170*225
240
15
750
-
Bar 50 PET
50-5
50*170*225
240
15
1000
-
Bar 65 PET
51-5
65*170*225
240
15
1400
-
Bar 80 PET
52-5
80*170*225
240
15
1800
-
Bar 40 PK
53-1
40*170*225
240
15
750
-
Bar 50 PK
50-2
50*170*225
240
15
1000
-
Bar 65 PK
51-1
65*170*225
240
15
1400
-
Bar 80 PK
52-4
80*170*225
224
15
1800
-
Complementary Products That might interest you